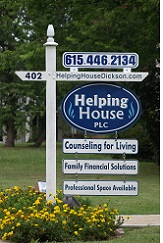 Professional Opportunities
WHEN YOU ARE READY FOR PRIVATE PRACTICE, WE ARE READY FOR YOU!
WHAT WE OFFER
Flexible Hours




Full-time, Part-time, or a few hours a week

Commitment to Organizational Wellness
Experienced Support Staff
Comfortable, inviting professional space
Growing Community
The City of Dickson grew 5.8% from 2010-2016.
Area is not saturated with Mental Health Providers.
Off street parking available
Dedicated, equipped space for children
STUDENT TRAINING EXPERIENCES

If you are in a graduate or undergraduate program and need a place for an internship or field placement, Helping House may work for you.