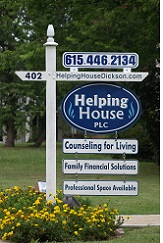 Helping House is excited about its newest offering. The purpose of this group counseling program is to help you meet your financial goals. The basic premise is that financial information alone is not enough for most people to change how they interact with money. You are part of the process.
Financial information + Self awareness = Financial awareness
Discover
How your previous successes have paved the way for financial success
How positive influences in your life can help with money challenges
Your beliefs about money
Your habits in regard to money
How guilt stands in the way of change
Who and what are bad influences when it comes to spending money
How the power of a group can motivate and support you to move toward your goal
Learn
How to tell the difference between a need and a want
The power of intention and attention
Strategies to spend less
Strategies to get out of debt
Strategies to increase your income
Strategies to let your money work harder so you don't have to
Develop Skills
How to set realistic goals
How to organize your bills
How to prioritize your bill paying
How to stop collection call harassment
How to negotiate for lower credit card interest rates
How to keep track of the money you have spent
"Many of us spend half our time wishing for things we could have if we didn't spend half our time wishing".